5 Tips & Tricks for Magnetic Hoops--MaggieFrame
1. Introduction
MaggieFrame is a strong magnetic hoop, which can be used on almost any embroidery machine. There is no need to adjust the outer ring of the hoop, because it holds the garment with magnetic force, and automatically adjusts for different thicknesses. MaggieFrame also can reduce hoops burn, and stress on arms and wrists. You can hooping the impossible with MaggieFrame! 
Experience commercial level embroidery with the revolutionary MaggieFrame, an innovative magnetic hoop that securely holds garments of all thicknesses for a perfect finish. Stress on wrists and arms is eliminated when hooping and stitches are guaranteed to stay in place due to its powerful magnetic force. And now thanks to Sew Tech Industry Co Ltd., you can take it up a notch by pairing your MaggieFrame hoop with their best-selling HoopTalent system! Without worry about hoop burn or inconsistency. Unleash your creativity today with this winning combination – the ultimate way for professional grade crafting at home!

2.1 Strong Magnets
MaggieFrame magnetic embroidery hoops have taken the craft industry by storm as it has revolutionized the way traditional embroidery is made, giving crafters more and better control over their work. With its powerful magnetic technology, it gives crafters a higher level of precision when placing stitches on fabric. MaggieFrame magnetic hoops have powerful magnets so the material stays tight and secure while being made. This provides an easier process for crafters who no longer need to worry about the material slipping through the tedious details of their projects. MaggieFrame magnetic hoops really do make some embroidery jobs easier!
2.2 Easy To Operate
The MaggieFrame magnetic embroidery hoop is the ideal embroidery tool for all embroiderers. This magnetic frame is very easy to handle and can easily handle a wide range of fabrics from denim to silk, its quick operation will save you time and effort. The unique design of the magnetic ring allows it to hold fabrics firmly in place, even for thicker projects that require multiple layers. The whole process is also smoother and faster, magnetic force and automatically make it more easier. As the design says it is held in place with powerful magnets. MaggieFrame not only makes it easier for users to finish their products, but also prevents stretching or shifting during the process, thus maintaining the accuracy and high quality of the final product.
3. 15 Sizes MaggieFrame Magnetic Hoops For Different Embroidery Machines
MaggieFrame is strong magnetic hoop. MaggieFrame 's innovative magnetic embroidery hoops make changing designs on embroidery machines quick and easy, it's more like magnetic force and automatically. MaggieFrame is available for all brands of embroidery machines, and these hoops can be used on Tajima machines as well as Ricoma , Happy, Janome, Brother, Baby Lock and many other embroidery machine brand. With MaggieFrame magnetic hoop you will be able to complete complex projects with ease while reducing the time spent with framing fabric, hooping burn and consistent hooping system. For a hassle-free experience, try MaggieFrame's Magnetic Embroidery Hoops today!
ST-M0404/ST-M0505/ST-M6565/ST-M7272/ST-M0608/ST-M0803/ST-M0813/ST-M0413These 8 sizes are suitable for Brother PR/Baby Lock machines. Here! You can get a Discount on Your MaggieFrame Use Coupon "MARINAYE000" by this LINK. MaggieFrame strong magnetic hoop is an innovative solution for those who need personalized embroidery.
Whether you are working on a simple embroidery or a complex embroidery project, this machine has 8 sizes to choose from to fit whatever material you are working with. This multi-size capability also makes it easy to determine the exact size pattern you need for your project and consistent hooping system, avoiding wasting time trying a larger size when a smaller size will get the job done. The eight sizes of the Brother PR/Baby Lock machine are essential tools for precision sewing that won't overcrowd or undersupply your work. 
Are you a Tajima machine embroidery enthusiast looking for the perfect embroidery hoop to make your precision work easier? If so, you're in luck! This blog post will outline 15 sizes of magnetic hoops for Tajima machines that can help you take your creative and detailed projects to the next level. From small designs of 24mm to large works of 420mm, these Tajima embroidery hoops offer maximum flexibility when taking on a variety of fabric designs. Discover which magnetic hoop size is right for you! 
4. How to Use MaggieFrame?
4.1 Use with the Hoop Talent
MaggieFrame are the latest invention patented by Sew Tech Industry Co Ltd., the Redesigner of the HoopTalent. The HoopTalent is the best-selling commercial embroidery hooping system in the world. Its patented features make it the easiest, fastest, and most consistent hooping system available in the industry. We recommend using the HoopTalent with MaggieFrame for the ultimate hooping experience!
As a creative embroiderer, one of the essential tools you need to get the job done is a reliable hoop. Use MaggieFrame magnetic hoop work Together with the Hoop Talent offers an innovative solution that makes it easy for you to hooping quickly and reduce hoop burn. this revolutionary magnetic hoop will provide you with smooth tension-free fabric fastening and precise alignment without any tricky knots or ties, making your hooping faster than ever before. Read on to learn how easy it is to use this magnetic hoop now.
5. Frequently Asked Questions
1. How do I choose the MaggieFrame size for my machine?
When you want the perfect frame, it is important to choose the right MaggieFrame magnetic hoop size for your machine. First, check the brand of your machine and the length of the plastic frame - both of these factors are critical to help determine which size frame is best for you. Once you base your frame on this information we'll provide you with the exact size that matches your machine.
2. What Are The Benefits Of Using MaggieFrame?
These hoops have a strong magnetic force that holds the fabric firmly in place, which makes it easy to manipulate the fabric during embroidery. MaggieFrame magnetic hoop is also easy to manipulate because all you have to do is place the fabric on top of the hoop and its powerful magnet will attract it, ensuring a firm adhesion and perfect control.
3. Do Magnetic Hoops Work?
Magnetic hoops are marketed as devices that can increase fuel efficiency and improve engine performance by using magnetic fields to alter the fuel and air mixture in a vehicle's engine. However, there is no scientific evidence to support these claims and they have been widely discredited by experts in the automotive and scientific communities. The laws of physics do not support the idea that magnetic fields can significantly improve the efficiency of internal combustion engines. In short, magnetic hoops do not work.
4. Does Brother Machine Can Use Magnetic Hoop?
Brother is a popular brand of embroidery machine, and many models are compatible with magnetic rings. However, not all Brother machines are designed to use magnetic loops, so it is important to check the specifications of your specific model before attempting to use them. Magnetic loops are a popular choice for machine embroidery enthusiasts because they stay firmly attached to the fabric, preventing them from slipping or moving around during stitching. They are also easy to use and don't require the traditional screw tightening method like regular embroidery hoops. If your Brother machine is compatible with magnetic hoops, it is important to follow the manufacturer's instructions and use high-quality, properly sized hoops to ensure the best results.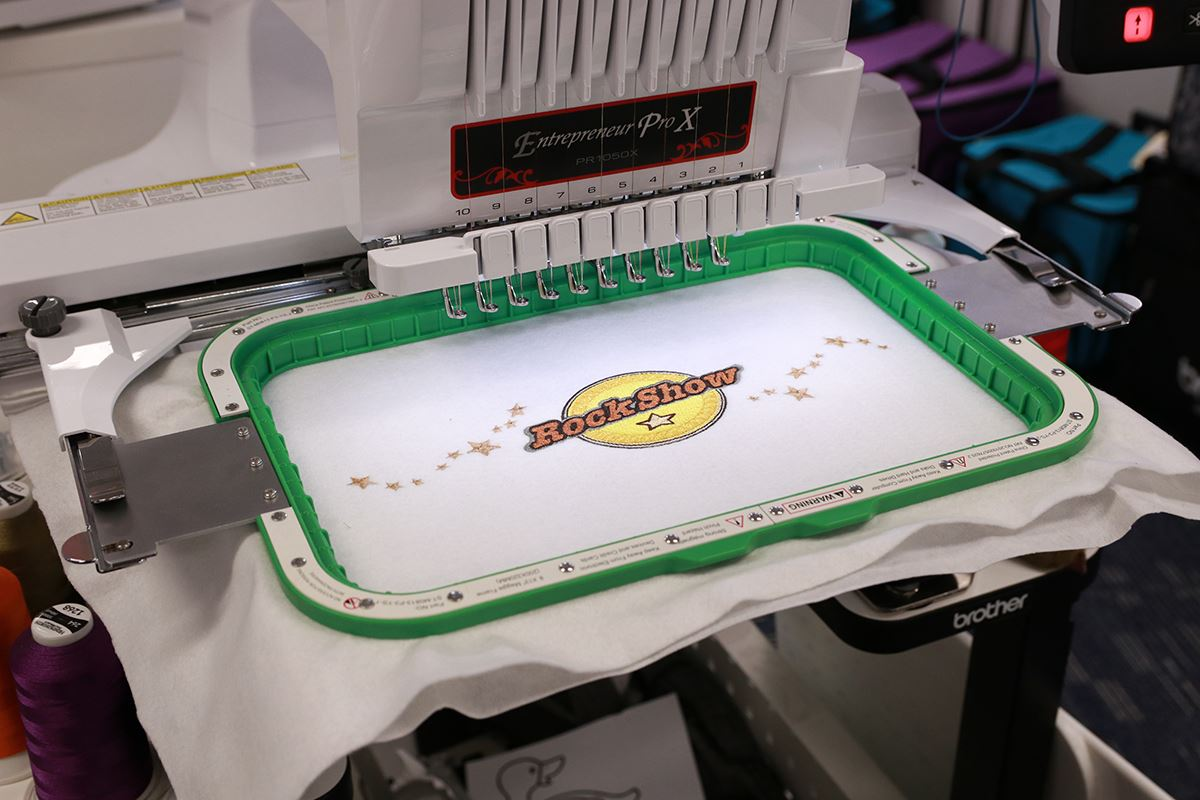 6. Conclusion
6.1 LET THE MAGNETS DO THE WORK!
Are you ready to take your embroidery to the next level? Then you should definitely try MaggieFrame Magnetic Hoop! This revolutionary way of hooping fabric makes it easier and faster than ever before. It's like hiring a personal assistant for your embroidery machine! Easily secure any fabric - MaggieFrame magnet hoop are here to make embroidery more efficient and less of a headache. So get ready to experience the time-saving magic of magnetism with this amazing introduction to the world of magnetic hoops embroidery!
Thank you for reading and I hope you found this article helpful. If you have any questions, please feel free to leave a comment below or contact me directly. If you know someone who might benefit from this information, please share it with them. Thank you again and happy embroidering!
6.2 Please Visit The Following Link To Know More About Our Products
Facebook: MaggieFrame
Ins: maggieframestore
Youtube: MaggieFrame